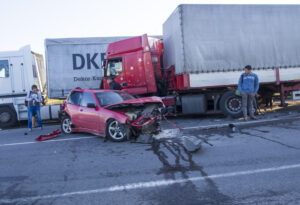 Personal Injury Lawyers St. Paul MN
What Steps Should I Take after Getting Hurt in a Car Accident?
Thousands of car accidents occur in the U.S. every year, as a
personal injury lawyer ST. Paul MN
residents trust can confirm. Being involved in a car accident can be quite scary, especially if you get injured. However, what you do immediately after the accident can affect your chances of getting compensation for your injuries.
Here are the steps you should take after getting injured in a car accident:
Call the Police
After a car accident, the first thing you should do is contact the police. They will arrive at the accident scene and file a police report that contains important information about the accident, such as how the accident happened and the names of everyone involved. Ask the police for a copy of this report so that you can use it for evidence later.
Take Photos
A personal injury lawyer in St. Paul MN suggests taking photos of the accident scene. Before you go home, don't forget to take clear photos of the damage to your vehicle, visible injuries, and traffic signs. If you are too injured to take photos, don't hesitate to ask a bystander to do it for you.
Go See a Doctor
Even if your injuries aren't causing you pain, it's important to seek medical care as soon as possible. A doctor can examine your injuries and decide if further treatment is needed for them. If you wait too long to seek medical care, your injuries could worsen. Delaying medical care may also hurt your chances of getting compensation, as a personal injury lawyer St. Paul MN locals respect can attest. The insurance company might not believe you are truly hurt if you waited too long to get medical care and deny your claim.
Avoid Speaking to Insurance Adjusters
A personal injury lawyer St. Paul MN residents rely on advises against speaking to insurance adjusters about the accident. They are trained to help save insurance companies money and may try to offer you the lowest settlement possible. If you talk to insurance adjusters without legal counsel, they may try to take advantage of you.
Follow Your Doctor's Instructions
If your doctor advises you to get treatment for your injuries, you should follow his or her instructions. Go to all your doctor's appointments and let your doctor know if your symptoms aren't improving. If you fail to follow your doctor's advice, the insurance company may try to deny your claim.
Hire a Personal Injury Lawyer
If you plan to pursue compensation for your injuries, it may be in your best interest to hire an experienced St. Paul personal injury lawyer. He or she may help you file a lawsuit in a timely manner and gather the evidence needed to prove your case. A personal injury lawyer St. Paul MN clients count on is there to look out for your best interests and ensure you don't get taken advantage of.