Rear End Collision Lawyers Twin Cities MN
Insight from Rear End Collision Lawyers Twin Cities MN Offers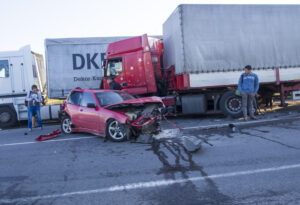 One of the most frustrating – and often frightening – events that can happen to us is being involved in a car accident caused by someone else's actions. You do all you can to keep you and your family safe, heeding all traffic laws and practicing safe driving behavior at all times. Then one day, as you are driving down the road, you feel and hear the sound of another vehicle plowing into yours.
Our rear end collision lawyers in Twin Cities MN from Johnston | Martineau, PLLP know that some types of car crashes are more common than others and that these accidents often result in injuries. These crashes include:
Rear-end collisions: This is one of the most common crashes we see at our law firm and happens when a vehicle slams into the rear of another. This can occur if the rear car tailgates the front vehicle. It can also happen if the first vehicle has stopped and the rear vehicle realizes it too late to stop in time. If any of these scenarios describes how you were injured due to another driver's actions, call one of our rear end collision lawyers in Twin Cities MN. We may be able to recover your damages from the responsible driver.
T-bone or side-impact collision: A T-bone collision happens when the front of one vehicle slams into the side of another. This is often the result of the at-fault driver running a stop sign or red light. These crashes are one of the most dangerous kinds and often leave victims with severe injuries.
Lower-speed crashes: Most drivers are well aware of car accidents caused by speeding, but many do not realize that low-speed crashes can also cause serious injuries. Parking lot accidents are frequently the location of low-speed crashes.
Single-vehicle crashes: Although there may only be one vehicle that ends up damaged from hitting utility poles, trees, guardrails, or other obstructions. Many of these crashes are caused as a result of the behavior of another driver. A driver who switches lanes without looking which in turn forces another vehicle off the road is an example of a single-vehicle crash. If you were the victim of this type of crash, call the rear end collision lawyers in Twin Cities MN from our firm and request a free consultation.
After the Crash
If you have been involved in a crash caused by another driver, there are steps you want to take which will help you recover your damages from the at-fault party. These steps assume that you have not suffered a severe injury and are physically able to do so.
At the scene of the crash, you will want to want to make sure law enforcement is notified. The officer will complete an accident report which will likely contain details which may help your case. You will also want to exchange information with any other drivers involved in the crash, including name, contact information, license and registration numbers, and their auto insurance company.
If there were witnesses to the crash, see if they would be willing to provide their contact information to you. It will also be helpful to take photos of vehicle damage, injuries, landmarks, and anything else you believe was a factor in the crash.
Upon leaving the scene of the crash, you should seek medical treatment immediately to evaluate your injury. The sooner your injuries are documented, the less likely it is that the insurance company can deny your claim.
Contact the Rear End Collision Lawyers Twin Cities MN Drivers Trust
If you have been injured in a crash, a car accident attorney from Johnston | Martineau, PLLP can evaluate your case and determine how much financial compensation you may be entitled to from the at-fault party. Call our office today to set up a free consultation and find out how we can help.