Underinsured Motorist Coverage—What Is It and Do I Need It?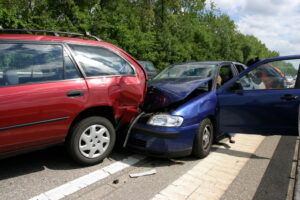 The short answer—yes.  
Underinsured motorist coverage is something most people have never thought about before. It's an afterthought, if it's a thought at all.  Sometimes people will try to save a few bucks and decline the coverage. Other times, people will choose less coverage than they are entitled to choose. That's a mistake, because underinsured motorist coverage is some of the most important coverage you, as a driver, can have. It protects you from the choices the rest of the world makes about how much insurance coverage it should have.
Here is how it works:
Assume you, or a member of your household, have the misfortune to be involved in a motor vehicle crash and the other driver was totally at fault. Maybe someone was texting while driving and drove into the back of your car? As a result of the crash you, or your family member, are seriously injured and will have pain and limitations from those injuries permanently.  What if those injuries have a big impact? For example, what if you, or your family member, can't return to work? Or, what if you, or your family member, have to give up a cherished hobby. This impact is significant when something like this happens the law says you should be made whole, as best as money can.
The first step in recovering for your injuries is to make a claim with the driver that caused the crash. If you are lucky, that vehicle's liability policy limits will be enough to completely make you whole and cover the damages suffered because of the crash. But that might be wishful thinking. Unfortunately, many people are driving around with minimal insurance coverage. For example, assume that the driver that caused the permanent injuries to you or your family decided to save a few dollars a month and carries liability limits of only $15,000. For most people $15,000 is not nearly enough to make up for a lifetime of pain and limitations. In this situation, because the damages far exceed the negligent driver's policy limits, the next step is to look to your own auto policy for compensation, specifically underinsured motorist coverage.
Underinsured motorist coverage, commonly referred to as UIM, is first-party coverage insuring you (the policyholder), and family members who live with you, against the possibility that you will be injured in a crash caused by a motor vehicle where the liability insurance covering that other vehicle is not enough to cover your full losses. In situations like the one described above, UIM coverage is intended to bridge the gap between the available liability coverage from the driver that caused the crash, and the amount of insurance you decide you need to protect your family. In the above scenario, if you choose to have $500,000 in UIM coverage, you could recover $15,000 from the at fault driver's insurance company and there would be $485,000 in coverage available under your own policy.
Because in some states insurance carriers are only required to offer UIM coverage as an option, it is strongly recommended that you elect to buy it as it is a means of protecting yourself from others on the road who have elected minimum or lesser coverage limits than you. If you have further questions, be sure to contact auto accident attorneys for aid.