18 Wheeler Accident Lawyer Minneapolis Minnesota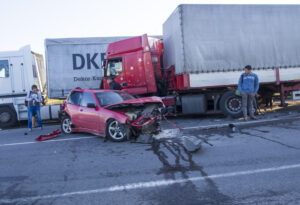 Commercial trucks are much larger and heavier than passenger vehicles. Therefore, they can do serious damage to whatever and whomever they strike in an accident. Victims of trucking accidents are more likely to suffer life-threatening injuries. If you were hurt in one of these accidents, you should speak to an 18 wheeler accident lawyer in Minneapolis Minnesota at Johnston Martineau PLLP.
Common Truck Accident Injuries
An 18 wheeler accident lawyer in Minneapolis Minnesota knows just how much pain truck accident injuries can cause. If the accident doesn't result in death, it can leave victims with severe injuries that take years to recover from. Here are some of the most common injuries truck accidents cause:
Traumatic Brain Injuries:

These injuries typically occur due to direct trauma to the head and can be life-altering. They can cause permanent cognitive and motor problems. Common symptoms of traumatic brain injuries include nausea, confusion, vision problems and dizziness.

Spinal Cord Injuries:

When the bones, muscles or nerves in the spinal cord become injured during a truck accident, it can result in temporary or permanent paralysis. While these injuries can be treated, they often require rehabilitation and surgery.
Burns:

During many truck accidents, a truck's fuel tank can explode. When this happens, burn injuries can occur. Burns are severely painful and can cause disfigurement. Burn victims often require several surgeries.
Lacerations:

An 18 wheeler accident lawyer in Minneapolis Minnesota has also seen many truck accident victims suffer lacerations. Although these injuries might not seem as severe as other injuries, they can result in infection and other complications if not treated promptly.
Back and Neck Injuries:

As an 18 wheeler accident lawyer in Minneapolis Minnesota can confirm, back and neck injuries after a truck accident can cause debilitating pain. The force of the accident can result in whiplash or disc injuries and dislocation, which can have lasting effects.

Internal Injuries:

Victims of truck accidents can also suffer internal injuries to organs like the lungs, spleen, heart and kidneys. These injuries can be life-threatening and require extensive treatment.
Psychological Injuries from Truck Accidents
While truck accidents can result in many physical injuries, we can't forget about the psychological injuries that they can cause as well. A truck accident lawyer Minneapolis MN residents trust has witnessed many truck accident victims suffer from depression, anxiety and even post-traumatic stress disorder. They might feel nervous about getting behind the wheel again, hindering their ability to go to work and complete simple tasks, like grocery shopping. If they sustain severe injuries that make it more difficult to walk or do basic activities, they may feel bitter and resentful.
It's important for truck accident victims with psychological issues to seek mental health services.
If you were hurt in a truck accident, you may be eligible for compensation. It's important to speak to an 18 wheeler accident lawyer in Minneapolis Minnesota about your legal options as soon as possible.