Big Rig Crash lawyer Minneapolis MN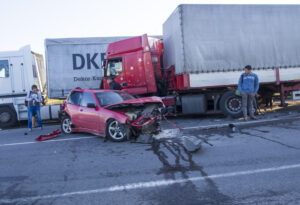 A Big Rig Crash lawyer Minneapolis MN community members depend on from Johnston Martineau, PLLP understands that commercial trucks help us get the goods that we need. Whether it be products or groceries, these hefty trucks can carry thousands upon thousands of pounds in items that make our lives easier. However, despite this positive impact on our commerce, these large vehicles pose a serious danger to others on the road.

All it takes is for one driver that is sleepy or overworked to make a move that changes the lives of those around them. Think of it this way, big rigs weigh around twenty five times more than the average car, so you can imagine how the injuries and vehicle damage can be amplified to that degree in the event of a crash. 
If you or someone you care about was the victim in a big rig accident, then we urge you to consider speaking with a dedicated lawyer from Johnston Martineau, PLLP for advice right now. We can protect your best interests and help you receive compensation for all you have been through. 
What We Can Do For Victims
The first step in helping you in your big rig accident case, is by working with you to create records related to your claim. For example, we will need copies of medical records, insurance policy details, medical bills, diagnostics, and any other information that proves the extent of your injuries. Pictures and video footage can show the facts of the incident and are much harder to dispute. If you were able to take photos of your visible injuries and the accident scene, that is going to help your case greatly.

Secondly, a truck accident lawyer Minneapolis MN victims trust is going to investigate more into the accident to obtain evidence necessary for your case. We may look into dashcam footage, police records, street camera footage, and speak with medical experts about the extent of your injuries. After gathering a strong file for your lawsuit, we will identify the parties who are at-fault, which may include: 
The truck driver who was operating the vehicle

The people responsible for performing maintenance on the truck

The truck driving company

The people who are in charge of loading the goods onto the truck (as they may have overloaded the truck which led to the crash)
We hope that you find some peace of mind knowing there are legal professionals who can watch out for your best interests in the aftermath of a serious accident. We believe in seeking fair compensation and justice for victims of accidents, who suffered because of another party's carelessness. Call today for immediate guidance on what to do next. 
If you want help after a truck accident, then we recommend contacting a MN Big Rig Crash lawyer in Minneapolis at Johnston Martineau, PLLP now.