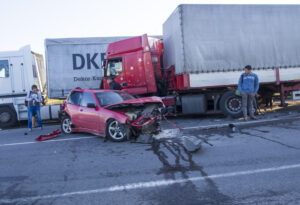 Truck Accident Lawyer Minneapolis MN
When a commercial truck collision happens, your natural concern may be for the well being of everyone involves, but this is only the beginning. Following the collision, you will have a lot to worry about, so it's good to have a truck accident lawyer Minneapolis, MN families can count on by your side. Commercial truck accidents are very complex and often involve state and federal laws. As the victim, or loved one of the victim, you might not only be responsible for your recovery, medical bills, and other losses, but you may also have to consider a number of legal responsibilities. For all of these reasons, it can be a good idea to retain a truck accident lawyer in Minneapolis, MN like Johnston | Martineau PLLP as soon as possible.
Johnston | Martineau PLLP can guide you through the legal process and help you to make decisions that based upon your best interests. If you were involved in a truck accident, you might be unsure about what to do next. You might even not know where to being.
If you were involved in a truck accident, you may want to consider seeking legal guidance from a truck accident lawyer serving Minneapolis, MN.  At Johnston | Martineau PLLP, we strive to help those that suffered a truck accident, receive maximum compensation for your losses. Truck accidents can be a very traumatic event, don't allow the stress of lost wages, medical bills, property damage, and legal issues hinder your process of recovery. Leave those worries to a Minneapolis, MN truck accident lawyer you can depend on.
Compensation You Deserve
After being injured from the negligence, malfunction or carelessness of a commercial truck, you be able to obtain compensation for your losses. A truck accident lawyer Minneapolis, MN clients recommend could help you recover damages for the following:
After an accident there can be a great deal of medical expenses. Examples may include hospital bills, surgery, physical therapy, or other related medical expenses.

You may be out of work due to the accident and different injuries may inhibit you from completing your work tasks. In this situation you should be able to receive compensation for your lost wages and future earnings.

You may experience neck or back pain from whiplash, have emotional damage from the accident, or some other type of physical or mental impairment. A truck accident lawyer in Minneapolis MN may suggest these things may not be evident at the beginning but you may still be able to gain fair compensation.

A truck accident lawyer Minneapolis MN victims can count on may do their utmost to help you receive the highest amount of compensation for any damages done to your vehicle.

In the case of a wrongful death, family members may be able to seek compensation for loss of care and funeral expenses.
Working with an experienced truck accident lawyer Minneapolis, MN citizens can depend on may help you receive the compensation you rightfully deserve.
Understand Your Rights
If you were injured in a semi-truck accident, several different parties may be held liable for your injuries or lost wages. An experienced truck accident lawyer Minneapolis, MN residents depend on may inform you that semi-trucks are regulated by federal, state, and local laws. There are several different rules and regulations that truck drivers must abide by. If the driver has been negligent or there was an issue with the rig, a top truck accident lawyer from Johnston | Martineau PLLP, may help you sort out who is held legally responsible for the accident.
It is also important to recognize that insurance companies may try to convince you to agree on a settlement shortly after the accident. Even though this may seem convenient, you may not have a full estimate of the damages and losses you received. The insurance company may offer a lower amount of compensation than what you deserve. An experienced truck accident lawyer Minneapolis, MN offers may speak to the insurance company on your behalf and know how to interact with an insurance adjuster to help you receive fair and full compensation.
Key Questions a Lawyer May Consider
Truck companies often have a lot to lose and are insured by some of the biggest companies in the United States. Filing a claim against a commercial truck company is not the same as filing a claim against an individual. Any good Minneapolis, MN truck accident lawyer knows that defendants like these are clever and often try to make the legal process as complicated as possible, especially for anyone on their own.
Johnston | Martineau PLLP has fought against truck companies for years, and knows what to expect. As soon as you talk with our firm, we may consider questions such as the following:
What were the injuries?

Were there any fatalities?

What was the extent of the property damage?

Did the police arrive at the scene?

Was a police report filed?

What are the medical and insurance costs?

Who had legal rights?

What factors may influence your case?
Our lawyers will seek to uncover these answers and build a case that is so strong it cannot be refuted, even by the most tactful defense team.
Why Choose Us?
A truck accident can be very upsetting. Who will pay for your medical costs? How will you get your car repaired? What are your legal rights? Are you being taken advantage of by the insurance company?
To assist with questions like these, and others, you should have a hard working truck accident lawyer in Minneapolis, MN on your side. When you choose our firm, you can feel assured in knowing we:
Will listen to you

Will keep you informed

Make the process as stress free as possible

Take care of all the legal issues

Let you focus on your recovery

Believe in integrity and family family values

Will be there for you

Work tirelessly to recover maximum compensation
We take on 99.9% of all truck accident cases on a contingency fee basis, so you pay nothing unless we win. To learn about your legal options and find out how to proceed with a claim or lawsuit, call a truck accident lawyer right now.
Motorcycle and Truck Crashes
If there is one thing that a Minneapolis, MN truck accident lawyer needs motorcyclists to understand, it's that if there is a crash between a semi-truck and a motorcycle, the truck will win and the motorcyclist is forty times likely to die than the truck driver involved in the same accident. By virtue of the size of their vehicles alone, truck drivers only comprise about six percent of all fatalities when involved in multi-vehicle accidents. A Truck accident lawyer for Minneapolis, Minnesota knows that motorcycles offer literally no protection to its riders from impacts that occur as a result of a collision.
A commercial truck can weigh up to 80,000 pounds and as a single semi is almost 60 feet long. This does not include trucks with multiple trailers or trucks carrying extremely heavy cargo. While the trucks are hard to miss, a truck driver can easily miss seeing a motorcycle. The size of the motorcycle, even in relation to the size of a standard automobile, as well as the speed a motorcycle may be traveling make it difficult for truck drivers to spot in their mirrors.
If you have been injured in a motorcycle accident involving a semi-truck or a loved one perished in a truck/motorcycle accident, contact an experienced truck accident lawyer at JOHNSTON | MARTINEAU PLLP in Minneapolis, MN. Their truck accident lawyers are available to discuss the details concerning the accident to determine the necessary steps to take to assist you in recovering the appropriate damages.
Ways to Avoid a Truck/Motorcycle Accident
There are, of course, times when an accident is unavoidable. As a motorcyclist, your odds of surviving a crash with a commercial truck are not very good. It is important that the motorcyclist be properly trained and comfortable with their bike prior to venturing onto highways that will be shared with these big trucks. In addition, motorcycle riders and all other drivers need to understand the following:
Be aware of all possible blind spots that the truck driver may have, as well as your own blind spots

Because motorcycles are smaller than other vehicles they may look to be further away than they are in reality

Obey all traffic laws, including speed limits and basic driving rules

Give trucks ample time to change lanes, do not attempt to pull out in front of them

Trucks need time to accelerate into traffic on interstates — give them enough space to do so and make sure the driver sees your motorcycle before going around the truck

Many trucks make wide turns thus making it necessary to make a right turn from a left lane — do not attempt to pass them on the right knowing they will be turning.

If you are on a motorcycle, do not get behind a dump truck that may have stones or debris coming out of the back
When to Contact an Attorney
As soon are you are able to after the accident, contact a Minneapolis, MN truck accident lawyer and inquire about your rights and chances for recovering damages that occurred as a result of the accident. The truck accident lawyers at the firm of JOHNSTON | MARTINEAU PLLP in Minneapolis, MN can answer all your questions and discuss how to proceed with your case. Remember, most states have a two-year statute of limitations on filing a claim for an accident. It is best to seek out the help of a qualified truck accident lawyer in Minneapolis, MN before taking any other steps that may limit the amount of compensation you may be able to receive.  Do not hesitate to reach out to JOHNSTON | MARTINEAU PLLP and get the help you need.
The Help That's Right for You
If you or a loved one has been a victim of a semi-truck accident, we at Johnston | Martineau PLLP are committed to obtaining the compensation you deserve. We want to help you cope with the financial and emotional consequences surrounding an accident. To receive a high level of care, consult with a tenacious truck accident lawyer Minneapolis, MN residents know gets results and contact our law firm today!
Client Review

"Johnston Martineau is very accommodating, I was in pain and did not know what to do, and they took over my case, they made sure the insurance company take care of all of my Medical bills. I will recommend their law firm to anyone. they are amazing."
Lydia Somah