MVA Lawyer St. Paul MN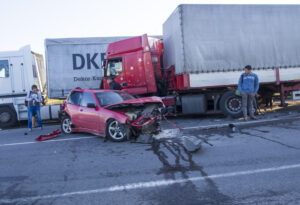 Each year in Minnesota, thousands of drivers and passengers are injured, or lose their life, in a motor vehicle accident. Many of these collisions result in extensive, life threatening injuries that can change the life of the victim forever. The recuperation time needed to heal can be considerable, and the financial losses coupled with the emotional impact of what happened, could leave you feeling lost for words.
At  JOHNSTON | MARTINEAU, PLLP, we have seen this scenario in a many of our cases. If you are in a similar situation, we encourage you to call an MVA lawyer St. Paul, Minnesota families trust for reliable legal advocacy and advice.
Don't suffer or risk losing everything to debt because of another person's wrongdoing. Call an MVA lawyer in St. Paul, MInnesota now. JOHNSTON | MARTINEAU, PLLP understands the challenges you may be facing and are ready to assist you with everything you may be dealing with. Our motor vehicle accident lawyers have decades of experience in fighting claims and lawsuits on behalf of victims and their loved ones. If you would like to learn whether or not you have a valid case, we invite you to schedule a complimentary case review. Reach out to an experienced MVA lawyer St. Paul, Minnesota residents recommend now.
Common Types of Motor Vehicle Accidents
Unfortunately, accidents happen, and most are a result of a driver overestimating his or her ability on the road, or becoming numb to a various degree of habits that may endanger other motorists. Speeding, ignoring the rules of traffic, texting while driving, driving while intoxicated, or any other number of careless behaviors can lead to disaster. Although there will always be multiple factors in an accident, it is important to understand what happened before you begin to negotiate a settlement.
By choosing to have an MVA lawyer St. Paul, Minnesota respects on your side, you can feel confident in knowing each detail of your case will be analyzed. From evidence, to witness interviews, expert witness testimony, and more, we will be ready to guide you through each step of the legal process. As a leading St. Paul MVA law firm, we have handled cases that have involved:
Fatal motor vehicle accidents

Rideshare accidents

Underage driving accidents

Distracted driving accidents

Reckless driving accidents

Driving while intoxicated accidents

Hit and run accidents

T-bone accidents

Head on collisions

Truck accidents

Motorcycle accidents

+ More
Common Injuries Sustained in a Motor Vehicle Accident
When a motor vehicle accident occurs, the harm that may result can inevitably cause months of medical care, staggering financial costs, extreme pain, and emotional distress. You may be unable to work or provide for your family, and in a worse case scenario, you may be the loved one of someone who died. If you experienced any of the following injuries, let JOHNSTON | MARTINEAU, PLLP, help you:
Brain injury

Head injury

Whiplash

Back and neck injuries

Internal injuries

Paralysis

Broken bones

Soft tissue injuries

Loss of limb

Scarring

Burns

Disfigurement

Death
For those impacted by the legalities of a car accident, it may be a top priority to seek an MVA lawyer St. Paul MN drivers trust from Johnston | Martineau, PLLP for representation. Since founding our firm, we have helped countless clients receive compensation after car accidents just like yours. We're proud to be a trusted source for drivers in the local area who need a MVA lawyer in St. Paul MN.
To find out if we can help you, please call an MVA lawyer St. Paul, Minnesota has to offer from JOHNSTON | MARTINEAU, PLLP.
Protect Yourself from a Motor Vehicle Accident
We believe in justice and getting the retribution deserved for victims of car accidents. Every person suffering from financial or physical injuries should have a trusted MVA lawyer St. Paul MN can provide working alongside them. We cannot be in control of another driver's actions on the road, but we can attempt to prevent ourselves from an accident by practicing defensive driving.
Here are some ways you can protect yourself from being the victim of a car accident:
Stay out of the fast lane unless you are passing another vehicle. Many drivers use that lane to speed in excess and can quickly become potential threats to others on the road.

Be alert to blind spots. An accident may occur if you cannot fully see your surroundings through the mirrors. Being aware of your blind spots may help you avoid colliding with a nearby vehicle that isn't driving safely.

Scan road surroundings around you. The cars in front of you could be driving too close to the cars in front of them. By practicing defensive driving, you can prevent an accident at the fault of another driver's poor judgement of space.

Driving at night can be dangerous. Many drivers do not utilize their lights correctly; either leaving the brights on when approaching another vehicle, or not remembering to turn their lights on at all. Both of these are incredibly hazardous to drivers on the road who are practicing safe methods.

Always use your turn signals before making a turn or a lane change. Signaling before you begin slowing down can help other drivers react accordingly.
Even if you practice good driving, those around you might not. If you're involved in an accident that was caused by another driver, you'll likely need to give a statement explaining what you did to try to avoid the accident. Practicing these behaviors whenever you drive can help you learn to react quickly when another driver makes a mistake.
Contact a Dependable MVA Lawyer St. Paul MN Has To Offer
When you hire an MVA lawyer St. Paul MN depends on, it may increase your chances of a favorable outcome. Dealing with filing a claim with your insurance company can get complex because they want to ensure they are not losing money. Your car insurance company may not have your best interest in mind.
At Johnston | Martineau, PLLP, we seek justice for those whose lives have changed due to another driver's negligent or reckless actions on the road. We offer 24/7 phone answering and free consultations with a St. Paul MN MVA lawyer. Do not hesitate to contact us, as we recommend acting quickly after any accident. Please speak to us today by calling to set up a free consultation with an MVA lawyer St. Paul MN drivers know and trust.