Personal Injury Lawyer St. Paul MN
The attorneys of Johnston | Martineau, PLLP have helped many people who needed a personal injury lawyer St. Paul MN accident victims trust. If you've been injured, our legal team may be able to help you recover your losses from a personal injury caused by a negligent third-party.
A St. Paul MN personal injury lawyer can help you protect your rights. For most people, pursuing legal justice on their own isn't practical. Call us today at Johnston | Martineau, PLLP for a free consultation to discuss how one of our personal injury attorneys may be able help you.
FAQs For a Personal Injury Lawyer:
Q1: How to collect money after a judgement?
A: You may be wondering about the process of collecting money following a judgement in your favor. It's common for victims of personal injuries to have mounting medical bills, and other costs associated with the accident. Paying those bills can help reduce stress, and make it easier to move on with one's life. But how do you collect that money from the at-fault party? It can be especially frustrating when they don't immediately hand over a check for the full amount.
There are many instances in which the losing party may not pay monetary damages, though a judge or jury has ordered them to do so. This may be for any number of reasons including:
They cannot afford to do so.

They simply refuse to do so.
It can be difficult to collect a judgement when the party refuses to pay, regardless of the reason why. Hiring a personal injury lawyer St. Paul MN victims turn to in similar circumstances can make all the difference. Additional legal action may be necessary, including a post-judgment discovery.
Q2: What is a post-judgment discovery?
A: If a judge or jury finds that a person or company is liable for the plaintiff's injury and the associated costs, by law, the at-fault party must pay the ordered amount of damages. If the at-fault party claims that they are financially incapable of meeting that debt, a personal injury lawyer in St. Paul MN can conduct a post-judgment discovery to determine if they are hiding income and assets, which can be liquidated to pay the damages. This is a legal process during which your attorney can perform these actions:
Interrogatories

Depositions

Requests for production of documents
Q3: What can be done if my attorney discovers hidden income or assets?
A: If you hired a personal injury lawyer St. Paul MN residents recommend, and he or she locates hidden funds, there are several options you can take:
You can garnish a percentage of the party's wages until the debt is paid. That percentage varies, so a personal injury lawyer St. Paul MN respects can help you determine what it is.

You can garnish the bank account of the business or individual responsible for paying your damages.

Law enforcement or other authorized individuals can seize equipment or other physical assets on your behalf from the at-fault company. This is also true of cash that may be on the company's property.
Q4: Can car insurance cover medical bills?
A:  In short, yes. Car insurance can often cover medical bills resulting from an accident; however, knowing how your coverage works will go a long way in ensuring that you get the most out of your policy.
In most states, there is some kind of requirement that all cars driven on public roads must be insured with some level of liability insurance. As a personal injury lawyer St. Paul MN relies on can explain, liability insurance is generally dissected into two different coverage types:
Bodily injury coverage – Which can pay for medical costs associated with injuries caused by others in an accident the liable party causes.
It is important to note that this coverage does not generally pay for your own injuries.
Property damage coverage – Pays for damage to another person's property (e.g., vehicle) in an accident the liable party causes.
When you're injured, the at-fault driver's bodily injury coverage will pay your medical expenses; however, if they haven't purchased enough coverage, you may need to enlist the help of a personal injury lawyer St. Paul MN trusts to seek the full compensation you deserve.
Q5: If my personal injury involved criminal charges, can I still file a civil suit?
A: Even if there are criminal charges pending against the negligent party, a victim of a personal injury which was intentionally inflicted can still likely bring a case before a civil court to collect personal injury damages. While, most personal injury lawsuits are filed over accidents like a slip and fall or a car accident, in some cases, the action that caused the harm was intentional rather than accidental.  For instance, "assault" and "battery" are intentional torts that can form the basis of a lawsuit in civil court.
Generally these cases include seeking compensation for the expenses associated with the treatment of the injuries resulting from the incident. Often a personal injury lawyer St. Paul MN can count on will look through medical bills, property damage repair bills, and review other documentation of harm caused to begin to determine the compensation a victim is entitled to.
Q6: If an attorney tells me they won't take my personal injury case, can I still file on my own?
A: In the United States, a citizen is allowed to file a complaint without the assistance of personal injury lawyer St. Paul MN looks to for guidance. However, at Johnston | Martineau, PLLP we do not recommend moving forward with a case of this kind. Personal injury cases can be very nuanced and the procedures involved in properly filing and navigating the civil justice courts system are not only very complex, but also very time consuming. Utilizing the experience and know how of a personal injury lawyer St. Paul MN turns to, can be a significant asset to any personal injury case.
If an attorney refused your case and you believe you a legitimate claim, you may want to seek the advice of other counsel, or inquire as to the reasoning why your case was not accepted. You may be overlooking factors the attorney knows to be crucial in pursuing a successful personal injury claim.
Contact the attorneys of Johnston | Martineau, PLLP if you would like to speak with an experienced personal injury lawyer St. Paul MN provides.
Q.6 Is it difficult to get compensation for soft tissue personal injury claims?

A: A common question asked of our St. Paul MN personal injury lawyer here at Johnston | Martineau, PLLP is whether or not soft tissue injuries are compensable. Many variables come into play when answering this, and sometimes it comes down to whether or not the at-fault party's insurance company will negotiate in good faith. What this means is that determining liability for soft tissue injuries can be difficult. This is particularly true when the victim has not hired an experienced St. Paul MN personal injury lawyer. The average insurance company will use any excuse to duck their responsibility to honor a claim, even a perfectly legitimate one. Johnston | Martineau, PLLP has had tremendous success negotiating settlements with insurance companies on behalf of injured members of the Minnesota community. We welcome you to contact our office for a free consultation with our personal injury lawyer in St. Paul MN to learn if we may be able to help you as well.
Q.7 Will I have to go to court?

A: The vast majority of personal injury claims are settled before the case proceeds to a courtroom. This is because it is usually in the best interest of all parties to avoid litigation. A trial requires a tremendous amount of time and money and the conclusion is not a given: the plaintiff (injury victim) is not guaranteed to receive a worthwhile settlement. In fact, the plaintiff could lose altogether and have to pay the lawyer fees for all concerned plus suffer their original amount of damages. Even if the victim wins, the defendant has the right to appeal the verdict and so the process will begin all over again and require that much more time and resources. A personal injury lawyer in St. Paul MN makes every effort to avoid going to court while at the same time securing a fair settlement for our client.
Q.8 What are the differences between soft tissue injuries and hard injuries?

A: Two of the most common types of compensable injuries in a personal injury claim are soft tissue injuries and hard injuries.
      

Soft tissue injuries are those that occur to the tendons, ligaments, or muscles. They also include protruding or herniated disks, contusions, or abrasions. Symptoms are pain, swelling, and bruising. If an injury victim suffers a bulging vertebrae, that's a serious injury and is usually accompanied by extreme pain. If the victim suffered the injury in a car accident caused by a reckless driver, the victim's personal injury attorney might seek damages that includes pain and suffering as well as medical treatment and lost wages.

      

Hard injuries is a general term used to describe a wide range of possible injuries. Broken bones, permanent brain damage, organ damage, scarring, life-threatening disease caused by exposure to toxic substances are all examples of hard injuries. Injuries that are permanent or which require long and extensive medical treatment will usually result in a higher dollar claim.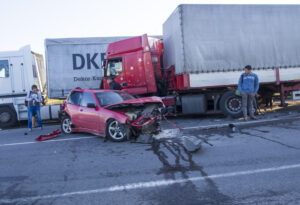 What Steps Should I Take after Getting Hurt in a Car Accident?
Thousands of car accidents occur in the U.S. every year, as a
personal injury lawyer ST. Paul MN
residents trust can confirm. Being involved in a car accident can be quite scary, especially if you get injured. However, what you do immediately after the accident can affect your chances of getting compensation for your injuries.
Here are the steps you should take after getting injured in a car accident:
Call the Police
After a car accident, the first thing you should do is contact the police. They will arrive at the accident scene and file a police report that contains important information about the accident, such as how the accident happened and the names of everyone involved. Ask the police for a copy of this report so that you can use it for evidence later.
Take Photos
A personal injury lawyer in St. Paul MN suggests taking photos of the accident scene. Before you go home, don't forget to take clear photos of the damage to your vehicle, visible injuries, and traffic signs. If you are too injured to take photos, don't hesitate to ask a bystander to do it for you.
Go See a Doctor
Even if your injuries aren't causing you pain, it's important to seek medical care as soon as possible. A doctor can examine your injuries and decide if further treatment is needed for them. If you wait too long to seek medical care, your injuries could worsen. Delaying medical care may also hurt your chances of getting compensation, as a personal injury lawyer St. Paul MN locals respect can attest. The insurance company might not believe you are truly hurt if you waited too long to get medical care and deny your claim.
Avoid Speaking to Insurance Adjusters
A personal injury lawyer St. Paul MN residents rely on advises against speaking to insurance adjusters about the accident. They are trained to help save insurance companies money and may try to offer you the lowest settlement possible. If you talk to insurance adjusters without legal counsel, they may try to take advantage of you.
Follow Your Doctor's Instructions
If your doctor advises you to get treatment for your injuries, you should follow his or her instructions. Go to all your doctor's appointments and let your doctor know if your symptoms aren't improving. If you fail to follow your doctor's advice, the insurance company may try to deny your claim.
Hire a Personal Injury Lawyer
If you plan to pursue compensation for your injuries, it may be in your best interest to hire an experienced St. Paul personal injury lawyer. He or she may help you file a lawsuit in a timely manner and gather the evidence needed to prove your case. A personal injury lawyer St. Paul MN clients count on is there to look out for your best interests and ensure you don't get taken advantage of.
Call our office today to find out more about how the legal services offered by each personal injury lawyer St. Paul MN, clients recommend from Johnston | Martineau, PLLP.
Client Review

"Chris represented me and everything went down the way he said it would. His expertise and experience on the courtroom allowed me to not only win, by having the case dismissed but dismissed with prejudice."
Chad Deley